KEYNOTE SPEAKER
---
The Sugar Pine Centennial 2021 Annual Awards Banquet has been cancelled, but our speaker, Mike Osborne, has graciously agreed to be our Keynote Speaker during the virtual convention on Saturday, April 24th.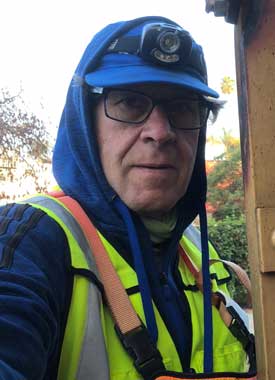 Keynote Speaker – Mike Osborne
Mike Osborne, currently employed by the Union Pacific Railroad, working all over the Southern California area, including the entire LA Basin and from Fresno to Yuma, Owens Valley to Calexico to San Luis Obispo. Mike has been an active model railroader since 1964 and is a 42-year veteran of the railroad, virtually spending his entire adult life working as a Brakeman in the Los Angeles Division for both the Southern Pacific and Union Pacific Railroads.
Mike will take you back in time to 1980 on a 172-mile night-time trip as a new brakeman aboard Southern Pacific's LABRF, from Los Angeles to Bakersfield Yard. Starting at Taylor Yard and LATC, you will journey across the San Fernando Valley, up Soledad Canyon, through the Mojave Desert, up and down the famous Tehachapi mountains to Bakersfield.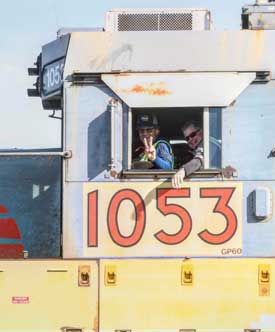 Mike on Gemco Local - 2020
Mike will describe the night trip in detail, pointing out the duties of the head brakeman. The sights and sounds of the trip, the herders, interlockings, Train Orders, dispatchers and other events along the way will be a part of this fascinating journey.
Door Prize Drawings
The grand door prize drawing will be held after Mike's presentation. Must be present to win the grand prize!
NOTE: Registrations must be submitted before 5:00 PM Friday, April 23, to be entered in the door prize drawings. Registrations submitted after 5:00 PM will not be included in the drawings.
Annual Business Meeting
The Annual Business Meeting for all PCR members, originally scheduled to be held during the Awards Banquet, will be held virtually via Zoom on Thursday, April 22, at 2:00 PM. For Zoom meeting ID and passcode, please see the PCR Master Calendar.
This page last updated: