CLINICS
---
COME. LEARN. SHARE...
MODEL RAILROADING IS OUR PASSION

We planned for six clinics but got seven clinics! They will be interspersed throughout the day of the virtual convention, per the Schedule. Following each presentation, the clinician will be available live to answer your questions.
Since the theme of the mini-convention is the centennial of the Sugar Pine Lumber Co., we will have some presentations on the history of this lumber operation and its common carrier, the Minarets & Western Railway.
Did you know that Ginger Rogers made a movie, Carnival Boat (1932), featuring the Minarets & Western? Some scenes were reversed in post-production, making it difficult to read the "Minarets and Western Railway" markings, but the designation "M & W" is readable at times, and the locomotive is marked "Sugar Pine Lumber Co."
---
Clinics & Presenters
Please note this list is TENTATIVE and subject to change without notice.
(updated )
---
Robert Pethoud – "Basics of Steam Locomotives"
Clinic: 8:40 AM – 9:40 AM • Breakout Session: 9:40 AM – 10:10 AM
American steam locomotives earned a reputation for being grotesque jumbles of pipes, rods, and mysterious devices. This clinic explains what many of these parts are, how they work, and how they developed over time. In particular, we'll explore in detail the functioning of Stephenson and Walschaert valve gear.
---
Scott McGhee – "Madera Sugar Pine"
Clinic: 12:30 – 1:30 PM • Breakout Session: 1:30 PM – 2:00 PM
Madera Sugar Pine Railroad with some present-day Yosemite Mountain Sugar Pine Railroad photos at the end. It really brings Hank Johnston's Thunder in the Mountains to life!
---
Jeff Johnston – "The Pains & Pleasures of Prototype Modeling: The Sugar Pine Lumber Company and Minarets & Western Railway"
Clinic: 1:40 PM – 2:25 PM • Breakout Session: 3:10 PM – 3:40 PM
This is our theme railroad, which operated in the Sierra Nevada 100 years ago. The clinic is a look at the curious and convoluted path you may follow when getting hooked on prototype modeling. The people, the resource discoveries, and adventures along the way make it great fun and highly rewarding. Jeff has been researching and modeling the Sugar Pine Lumber Company/Minarets & Western Railway for more than 25 years.
---
Jeff Johnston – "A Field Trip to Sugar Pine Lumber Company Territory (a.k.a. The Excursion That Didn't Happen)"
Clinic: 2:25 PM – 3:10 PM • Breakout Session: 3:10 PM – 3:40 PM
As part of the live convention activities on Thursday, Jeff had planned to lead us on an excursion to the woods of Sugar Pine Lumber territory to visit pertinent SPLCo locations and see a few interesting sights related to the company. Since that did not happen, Jeff will instead virtually share with us some of his new never-before-seen photos of field trips he's previously taken to the woods.
Jeff's collection of photographs, blueprints, maps and other data keeps growing and adding to the knowledge base about this interesting line. He has also spent a lot of time in the woods in Sugar Pine territory.
This is a new 7th clinic added Friday, 4/2/21!
---
Ed Merrin – "Focus Stacking and Low Perspective Smartphone Photography"
Clinic: 4:10 PM – 5:00 PM • Breakout Session: 5:00 PM – 5:30 PM
In this clinic, Ed presents the rationale and techniques for using the camera in your smartphone to create low-angle close-up photos of model railroad layouts or dioramas with realistic depth of field. He discusses advantages and disadvantages of the smartphone versus larger DSLR or mirrorless cameras and walks you through a shooting session. Essential to this process is mastering the blending of multiple individual images taken at different focal points. The mechanics of setting up these shots with the standard manual technique or more recent automated software approaches are covered. Postproduction issues, including choice of software and the use of cropping, and the types of artifacts that are encountered.
---
Steve Redeker – "Modeling the Hetch Hetchy RR in Black and White "
Clinic: 7:20 PM – 8:20 PM • Breakout Session: 8:20 PM – 8:50 PM
Steve will describe how he models the Hetch Hetchy Railroad in black and white using its 1917-era prototype photos for backdrops. Each modeled scene replicates the photo behind it. This dead rail layout includes magnetic turntables, anti-flying stoppers, and quick change backdrops. The Hetch Hetchy Railroad was built by the City of San Francisco to support the construction of a huge concrete dam in Yosemite National Park and the High Sierra portion of the aqueduct carrying water to San Francisco.
Handouts
---
Doug Wagner – "The Sunset Railway and McKittrick Branch — Now and Then"
Clinic: 8:30 PM – 9:30 PM • Breakout Session: 9:30 PM – 10:00 PM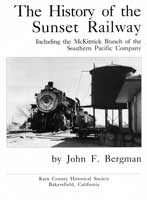 With the book, The History of the Sunset Railway, Including the McKittrick Branch of the Southern Pacific Company, and a camera in hand, Kern County Fire Department firefighter Doug Wagner explored the old roadbeds of the Sunset Railway and McKittrick Branch in southwest Kern County. As a firefighter, Doug was able to gain access to areas that the general public was not allowed. He was able to recreate photos of past railroad activities in the Kern County oil fields from the book and show what the same location looks like in the present day. This 2-part presentation will be shown in its entirety, with Part 1 covering the McKittrick Branch and Part 2 covering the Sunset Railway. Please join us as we view historic southwest Kern County railroad scenes from the early 1900s and compare them to how they appear now in the present day.
---
This page last updated: