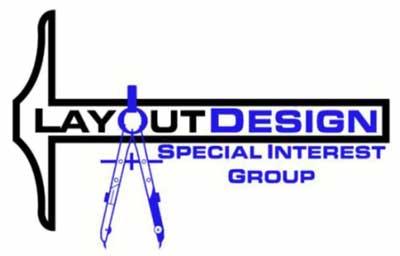 Layout Design Special Interest Group (LDSIG) Program
SIG Program Coordinator: Seth Neumann
LDSIG Convention Website

LDSIG Zoom Room Link
The Layout Design Special Interest Group will have their own channel up for the whole convention to provide a virtual "SIG Room" experience.
ALL LDSIG ACTIVITIES ARE OPEN TO ALL CONVENTION ATTENDEES!
THIS PROGRAM STARTS MONDAY, JULY 5th
All Times Pacific Daylight Time (PDT, UTC-7)
LDSIG PROGRAM SCHEDULE

Day / Time

Description
Location
Monday
July 5
5:00–7:00 PM
LDSIG Meet & Greet – Open to all, especially SIG members. All SIG program participants (you don't need to belong to Layout Design or Operations SIGs to attend) are invited to briefly introduce themselves and their interests. A layout plan may be shared.
LDSIG Zoom Room
Tues – Sat
12:00–2:00 PM
5:00–7:00 PM
Open Discussion – Hang out and eat with SIG members, share your impressions of the Convention, and discuss your layout designs and operational plans.
LDSIG Zoom Room
Tuesday thru Saturday
9:00 AM–8:00 PM
Layout Design Consultations – Members of the LDSIG will be offering free 45-minute layout design consultation sessions to convention attendees. Limited availability. A link to sign-up will be included in the Official Timetable #85 you will receive before the convention starts OR click HERE to schedule a layout design consultation.
LDSIG Zoom Room
NOW AVAILABLE
LDSIG Annual Layout Tour – Because the convention is virtual this year, the LDSIG can't host its traditional self-driving Layout Tour. Instead, we have curated a list of railroads that are part of the overall Rails by the Bay layout tours that we think will be of the most interest to those interested in layout design. These railroads are indicated by the

LDSIG Recommended Layout

notation on the Layout Tours page. Also see the Layout Owner Panels schedule on the Layout Tours page.
Convention Layout Tours webpage
Tuesday
10 AM – Noon
Make Only New Mistakes clinic with Layout Design Journal editor Byron Henderson – An intensive 2-hour session on track planning sponsored by the Layout Design SIG. Discover how to refine vision, concept and purpose; select layout footprints and schematics; draw accurate and useful plans; create efficient and engaging yards and industrial areas; make best use of staging tracks; maintain space for people; and avoid common track planning errors.
Handout: Make Only New Mistakes

(120 kb)

Convention Zephyr Room
Thursday
5 – 7 PM
Annual SIG Dinner – join other SIG members for a virtual dinner. Otis McGee will speak about "Realizing a John Armstrong Track Plan for SP Shasta Division."
LDSIG Zoom Room
Thursday
7 – 9 PM
What Would You Do Differently – Panel of Hosts from the Layout Design SIG Tour discussing lessons learned and the evolution of their thinking. Featured owners include: Jack Burgess, MMR®, Guy Cantwell, Howard Lloyd, Ed Merrin, Tony Thompson, and Paul Weiss.
Convention Daylight Room
---
Rails by The Bay NMRA 2021 Convention: Schedule at a Glance
This year's Rails by the Bay NMRA 2021 convention will run July 6 – 10, from 8:00 AM to 10:00 PM Pacific Daylight Time (PDT/UTC-7) with the following daily schedule:

8:00 AM – 9:00 AM • Morning Meetups
9:00 AM - 12:00 PM • Morning Clinics Session
12:00 PM – 2:00 PM • Lunch Break
2:00 PM - 5:00 PM • Afternoon Clinics Session
5:00 PM – 7:00 PM • Dinner Break
7:00 PM – 9:00 PM • Evening Clinics Session
9:00 PM – 10:00 PM • After Party

---
Prototype Operating Session
Operate the Silicon Valley Lines – Remotely!
Silicon Valley Lines (SVL), a club layout in San Jose, California, will be hosting a remote operating session Friday, July 9 at 7:00 PM PDT. They will be able to accommodate up to 30 engineers. Click here to request an operator position.
Contact James Brassill for questions.
---
LDSIG Recommended Layouts
These layout tours are recommended by the Layout Design Special Interest Group (LDSIG) to view
before the convention

. Look for

LDSIG Recommended Layout

on the main Layout Tours webpage.
Click underlined layout name to view video.
| Owner | Layout | Owner | Layout |
| --- | --- | --- | --- |
| Adams, Dave | Denver & Rio Grande Western Durlin Branch | McGee, Otis | Southern Pacific Shasta Route |
| Bowdidge, Robert | Southern Pacific Vasona Branch | Merrin, Ed | Northwestern Pacific |
| Burgess, Jack MMR® | Yosemite Valley Railroad | Neumann, Seth | Union Pacific Oakland Subdivision |
| Cantwell, Guy | Willoughby Line | Parks, David | Cumberland West |
| Dias, Jim | Western Pacific 1938 | Providenza, Jim | Santa Cruz Northern |
| Fortin, Rick | Valley Division, Fourth District (ATSF) | Schmidt, Jon | Nicasio Northern Railroad |
| Hayes, Steve | Western Pacific 1967 | Simard, Ernie | Western Pacific |
| Houston, Dave | Southern Pacific Rocklin Sub | Stanley, Dave | Morada Belt Railway |
| Kaufman, Bill | State Belt Railroad | Stephens, Ted | Ohio & Little Kanawha Railroad |
| Lloyd, Howard | Claremont Docks Railroad | Thompson, Tony | SP Santa Rosalia Branch |
| Loizeaux, Ed | New York Central Valley Division | Weiss, Paul | Central Vermont Railway |
| | | Zach, John | Sierra Railroad |
---
What's the purpose of the Layout Design SIG?
The prime purpose of the Layout Design Special Interest Group (LDSIG) is to help modelers design and build a model railroad to enhance future operations with minimum space and cost, while avoiding common design flaws, and include prototypical and model design features that maximize operating interest and visual interest.
For more information about other NMRA SIGs, see the NMRA's Special Interest Groups webpage.
---
Seth Neumann
NMRA SIG Program Coordinator
This page last updated: