Schedules
Convention Schedule at a Glance
This year's convention will run July 6-10, from 8:00 AM to 10:00 PM Pacific Daylight Time (PDT) with the following daily schedule:

8:00 AM – 9:00 AM • Morning Meetups
9:00 AM - 12:00 PM • Morning Clinic Session
12:00 PM – 2:00 PM • Lunch Break
2:00 PM - 5:00 PM • Afternoon Clinic Session
5:00 PM – 7:00 PM • Dinner Break
7:00 PM – 9:00 PM • Evening Clinic Session
9:00 PM – 10:00 PM • After Party

---
Clinic Schedule
The Rails By The Bay Daily Schedule below is current as of and is subject to change without notice. Check the News & Updates page frequently for additions, deletions, and updates.
NMRA 2021 Rails By The Bay




Clinic Schedule




(Current as of: )

Day / Date

Start Time

(PDT)

Daylight Clinic Track

Zephyr Clinic Track

Clinician
Topic
Clinician
Topic

Tuesday
July 6
9:00 AM
Welcome – Gordy Robinson and Ed Slintak
Robert Stafford's BN Coal & Grain Unit Trains clinics will follow opening.
10:00 AM
Ray Persing
Scratchbuilding in Wood
Byron Henderson
Make Only New Mistakes
11:00 AM
Robert Pethoud
Basics of American Steam Locomotives
2:00 PM
Mark Juett, MMR®
Setting Up for Operations
Phil Edholm
Printing Interiors for Your Models
3:00 PM
Mark Juett, MMR®
Using JMRI for Car Forwarding
Neil Erickson
The Oahu Railway Wahiawa Branch in On30
4:00 PM
Clark Kooning, MMR®
Clarks Tool Ideas Clinic: Part 1 Part 2 (combined)
Paul Hobbs
Fifty Years of Amtrak and Business Cars, Private Cars
7:00 PM
Clifton Linton
Ethanol by rail -- a 21st century prototype you can model
Paul Deis, Moderator
Layout Owner Panel with James Brassill & Dave Falkenburg, Dave Tateosian, Dave Adams, and Dave Stanley
8:00 PM
Bruce Morden
Layout Without a Plan: Changes as You Go Along
Paul Deis, Moderator
Layout Owner Panel with Jim Providenza, Seth Neumann, Paul Weiss, and John Zach

Wednesday
July 7
9:00 AM
Bob Frankrone
Creating Operations on the Louisville Southern Lines
Dave Lull
Structures on an Extraordinary O Scale Traction Layout
10:00 AM
Guy Cantwell
Blurring the line: Freelancing from the Prototype
Pete Steinmetz
Weathering With Pan Pastels and Other Media
11:00 AM
Irwin Nathanson
Let's Visit the Diamond Point Railways
Phil Edholm
Using 3D Printed Building Framing in an O Scale Model
2:00 PM
Steve "Breezy" Gust
A Day in the Life of a Train Dispatcher
Doug Harding, MMR®
Western Grocer - A look at a Mid-Century, Midwestern Grocery Distribution Company
3:00 PM
Bryan Fraser
What is Model Railroading?
Frank Schneider
Surface Mounted LEDs
4:00 PM
Clark Kooning, MMR®
40 Minutes with Clark
Bob Weinheimer, MMR®
Getting Started in Operations
7:00 PM
Clifton Linton
Dispatcher's Fireside Chat - What it was really like with Steve "Breezy" Gust, Thomas White, Rick Kang, and Mark Amfahr
Dave Adams, Moderator
Jim Vail Tribute with Guy Cantwell, Craig Symington, Jerry Boudreaux, and Dave Adams.
8:00 PM
Bruce Morden
Direct Traffic Control

Thursday
July 8
9:00 AM
Bob Frankrone
Love Those Loads
Robert Pethoud
Operating the Fall Creek Branch
10:00 AM
Bill Decker
So You Want to Build a Dream Model Railroad?
Pete Steinmetz
Dead Rail Systems in Smaller Scales
11:00 AM
Bob Weinheimer, MMR®
Operations on the Pennsylvania Southern
Al Daumann
Maximizing Small Layout Operations (Squeezing 10 Lbs of Ops into A 5 Lb Layout)
2:00 PM
Tony Koester
Update on the Nickel Plate
Frank Markovich, MMR®
Building The Demonstration Layout For the "Magic of Scale Model Railroading" exhibit at the California State Railroad Museum
3:00 PM
Mark Juett, MMR®
Installing Sound Decoders
Frank Schneider
Make Your Own Decals
4:00 PM
Mark Juett, MMR®
Using Decoder Pro
Michael Hill
Simplifying Wiring on your panels with Arduinos, Neo-Pixels and Resistor chains.
7:00 PM
Seth Neumann
What Would You Do Differently
Paul Deis, Moderator
Layout Owner Panel with Rick Fortin, Richard Croll, David Parks, and Richard Eberli
8:00 PM
Scott McGhee
Madera Sugar Pine

Friday
July 9
9:00 AM
Paul Deis
Building a Layout, Design to Details
Ray Persing
3D Printing for Model Railroading
10:00 AM
Joe Fugate
Painting in a post-Floquil world
Don Winn
Kitbashing - Think outside the Walthers box!
11:00 AM
Bob Weinheimer, MMR®
Evolution of an Operating Scheme
Jack Burgess, MMR®
Photoshop Elements as a Modeling Tool
2:00 PM
Guy Cantwell
Scenery techniques - Modeling the Central Valley and the Western Sierras
Charlie Getz & Chris Palermo
NMRA's Magic of Scale Model Railroading Exhibit at the California State Railroad Museum: A Guided Tour
3:00 PM
Bob Frankrone
How to add a scene to a layout in 15 easy steps
Dave Falkenburg & James Brassill
Silicon Valley Lines Under the Layout Tour
4:00 PM
Seth Neumann
Re-Animating a US&S type 506 CTC Console
Joe Fugate
Make it run like a Dream
5:00 PM
Dinner
Michael Gross - My Life in Trains
7:00 PM
Earl Girbovan
Modeler's Showcase featuring Dave Adams, Dave Croshere, Paul Deis, Fran Foley. Earl Girbovan and Jesse Walden
John Abatecola, Moderator
Layout Owner Panel with Jack Burgess, MMR®, Guy Cantwell, Howard Lloyd, and Tony Thompson
8:00 PM
Clifton Linton
Butane by Rail - A Prototype You Can Model
Edwin Hall, MMR®
Basic Airbrushing and Detailing and Painting a Southern Pacific Cab-Ahead

Saturday
July 10
9:00 AM
Guy Cantwell
Fast Forward - 15 Years of layout Construction in an Hour
Steve Redeker
Modeling the Hetch Hetchy Railroad in 1919: A Black and White Approach to Scenery
10:00 AM
Jesse Walden
An Operating System for Smaller Layouts
Paul Deis
Tuning Up Your Rolling Stock
11:00 AM
Roger Sekera
Developing Your Operations from Start to Timetable and Train Order
Seth Neumann
An Update on the Union Pacific Oakland Sub
2:00 PM
Mike Osborne
LABRF: Los Angeles to Bakersfield
Bill Kaufman
Developing Operations for Your Layout
3:00 PM
Chris Palermo
Seasickness Unknown: The Pacific Coast Companies Create the Alaska Cruise Business
Ed Merrin
Focus Stacking and Low Perspective Smartphone Photography
4:00 PM
Seth Neumann
Model Railroad Communications (Phones for Ops)
Joe Fugate
Siskiyou Line 2 Clinic
5:00 PM
Dinner
NMRA President Gordy Robinson - Thanks for Coming
7:00 PM
Kristine McNary
Zimo DCC
Paul Deis, Moderator
Layout Owner Panel with Ed Merrin, Chuck Oraftik, Bill Kaufman, Dave Houston
8:00 PM
Bruce Morden
Using Sanborn maps and aerial photos for layout design
Edwin Hall, MMR®
Detailing & Painting the Southern Pacific 1941 Lark
Back to Top of Page
---
Breakout Room Schedule
Using Breakout Rooms
TO ENTER - Click on the Breakout Rooms icon (4 squares) at the bottom of your screen to get a list of all the breakout rooms and who's in them. Some of the breakout rooms will be dedicated to specific topics, but many will be available for people just to hang out and socialize in. To enter a breakout room, hover over the area that tells you the number of people in the room and a Join button will appear, allowing you to join the room.

TO LEAVE - click the button in the bottom right corner that says Leave Room then select the option you want from there.
QUESTIONS? – Look for volunteer staff throughout the convention or in the Great Hall. They will have Staff before their name.
NMRA 2021 Rails By The Bay




Breakout Room Schedule




(Current as of: )

Day / Date
Start Time
(PDT)
Breakout Room
Hosted By
Room Name
Topic
Monday
July 5
7:00–10:00 PM
LDSIG Zoom Room
LDSIG Meet & Greet – Open to all, especially SIG members. All SIG program participants (you don't need to belong to Layout Design or Operations SIGs to attend) are invited to briefly introduce themselves and their interests. A layout plan may be shared.
Layout Design SIG
Seth Neumann

Tuesday
July 6
12:00–1:30 PM
VENDOR FOCUS
CTC and layout control, signaling, and a range of solutions for layout control
Model Railroad Control Systems
Seth Neumann
12:00–2:00 PM
Scratch Building
Is Scratch Building Dead?
Ray Persing
12:00–2:00 PM
YouTube Modelers
For the YouTube modeling community
Human(c)ity Junction
Heath Hurwitz
1:00–2:00 PM
For Ladies in the Hobby
Women in the hobby are invited to a Meet & Greet
Cydney George-Abatecola, Michelle Kempema, Christine Zambri
5:00–6:30 PM
VENDOR FOCUS
Multiscale 3D Printed Figures
Miniprints
5:00–7:00 PM
B&O Railroad Historical Society
About the BORHS: Check out their information, archives, and collections
Travers Stavac
5:00–7:00 PM
ProtoSteam Throttle
Progress
Mark Stafford

Wednesday
July 7
12:00–1:30 PM
VENDOR FOCUS
The Amazing Diesel ProtoThrottle – also multiscale
Iowa Scaled Engineering
Scott Thornton
12:00–2:00 PM
Cool Tools
Photos/Photo Processing
Ed Merrin
12:00–2:00 PM
CMRI Special Interest Group
Computer/Model Railroad Interface as developed by Dr. Bruce Chubb
Seth Neumann
12:00–2:00 PM
Narrow Gauge
—
Dave Adams
12:00–2:00 PM
MSS SIG
Modular Signal System
Jere Ingram
12:30 PM
NMRA
Meet the President
Gordy Robinson
3:00 PM
Operations
Passenger Ops
Bob Ellis
5:00–7:00 PM
YouTube Modelers
For the YouTube modeling community
TSG Multimedia
John Abatecola
5:00–7:00 PM
B&O Railroad Historical Society
B&O Equipment: Photos, drawings, company documents, engineering reports
Travers Stavac

Thursday
July 8
10:00 AM
Operations
Passenger Ops
Bob Ellis
12:00–1:30 PM
VENDOR FOCUS
Multiscale Model Railroad Manufacturer
Bachmann Trains
Doug Blaine
12:00–2:00 PM
MSS SIG
Modular Signal System
Jere Ingram
12:00–2:00 PM
Cool Tools
Eagle CAD
Seth Neumann
12:00–2:00 PM
YouTube Modelers
For the YouTube modeling community
Human(c)ity Junction
Heath Hurwitz
12:00–2:00 PM
Small Scales
For those into N, Nn3, TT, TTn3, and Z scales
Richard Brennan
5:00–7:00 PM
B&O Railroad Historical Society
Operations: Use of Form 6, freight working books, terminal operations and more!
Travers Stavac
5:00–7:00 PM
LDSIG Zoom Room
Annual SIG Dinner. Speaker: Otis McGee on "Realizing a John Armstrong Track Plan for SP Shasta Division."
Layout Design SIG
Seth Neumann

Friday
July 9
9:00–11:00 AM
Proto:87
Discussion
Rene Gourley
12:00–1:30 PM
VENDOR FOCUS
Multiscale Laser Cut sturctures and Laser/Cast Details
Inter-Action Hobbies
Darryl Jacobs
12:00–2:00 PM
Cool Tools
Discuss 3D Printing (and the Achievement Program)
Ray Persing
12:00–2:00 PM
Narrow Gauge
—
Dave Adams
5:00–7:00 PM
For Ladies in the Hobby
Women in the hobby are invited to a Virtual Dinner
Cydney George-Abatecola, Michelle Kempema, Christine Zambri
5:00–7:00 PM
ProtoSteam Throttle
Progress
Mark Stafford

Saturday
July 10
12:00–1:30 PM
VENDOR FOCUS
Multiscale fiber optic lighting systems for layouts and structures
Dwarvin Lighting
Michael Groves
12:30 PM
NMRA
Meet the President
Gordy Robinson
6:00–7:00 PM
Cool Tools
Hand Tools
Jack Burgess, MMR®
Themed Breakout Rooms
Garden Scale
Model Railroad Technology - DCC, JMRI, Arduino, LocoFi™, Dead Rail™, etc.
Modeling Modern Railroads
Modeling Canadian Railroads
Modeling Eastern Railroads
Modeling Non-US Railroads
Modeling Pennsy
Modeling the NYC
Modeling the UP
Modeling the SP
Modeling the Western Pacific
Modeling the Rio Grande
Modeling Western Railroads (ATSF, BN, BNSF, D&RGW, SP, UP, WP, etc.)
Modular Layouts
O Scale
Small Layouts
Small Scales – TT, N, Z
Train Photography
Under 30 – Are you 30 years old or younger? Meet others just like you in the hobby!
Our Social Gathering Rooms - any topic!

The Hotel Bar
The Dining Car
The Lounge Car
The Observation Car
The Caboose

Our Vendor Rooms

Chief Vendor Focus Room
Overland Vendor Focus Room

Clinic Goes on Rooms

Clinic Goes On Daylight 1
Clinic Goes On Daylight 2
Clinic Goes On Daylight 3

Clinic Goes On Zephyr 1
Clinic Goes On Zephyr 2
Clinic Goes On Zephyr 3

Additional Rooms

Eureka Room
Mariposa Room
Maui Room
Mineral Room
Napa Room
San Francisco Room
Santa Barbara Room
Santa Cruz Room
Shasta Room
Sonoma Room
Yosemite Room
Back to Top of Page
---
Vendor Focus Schedule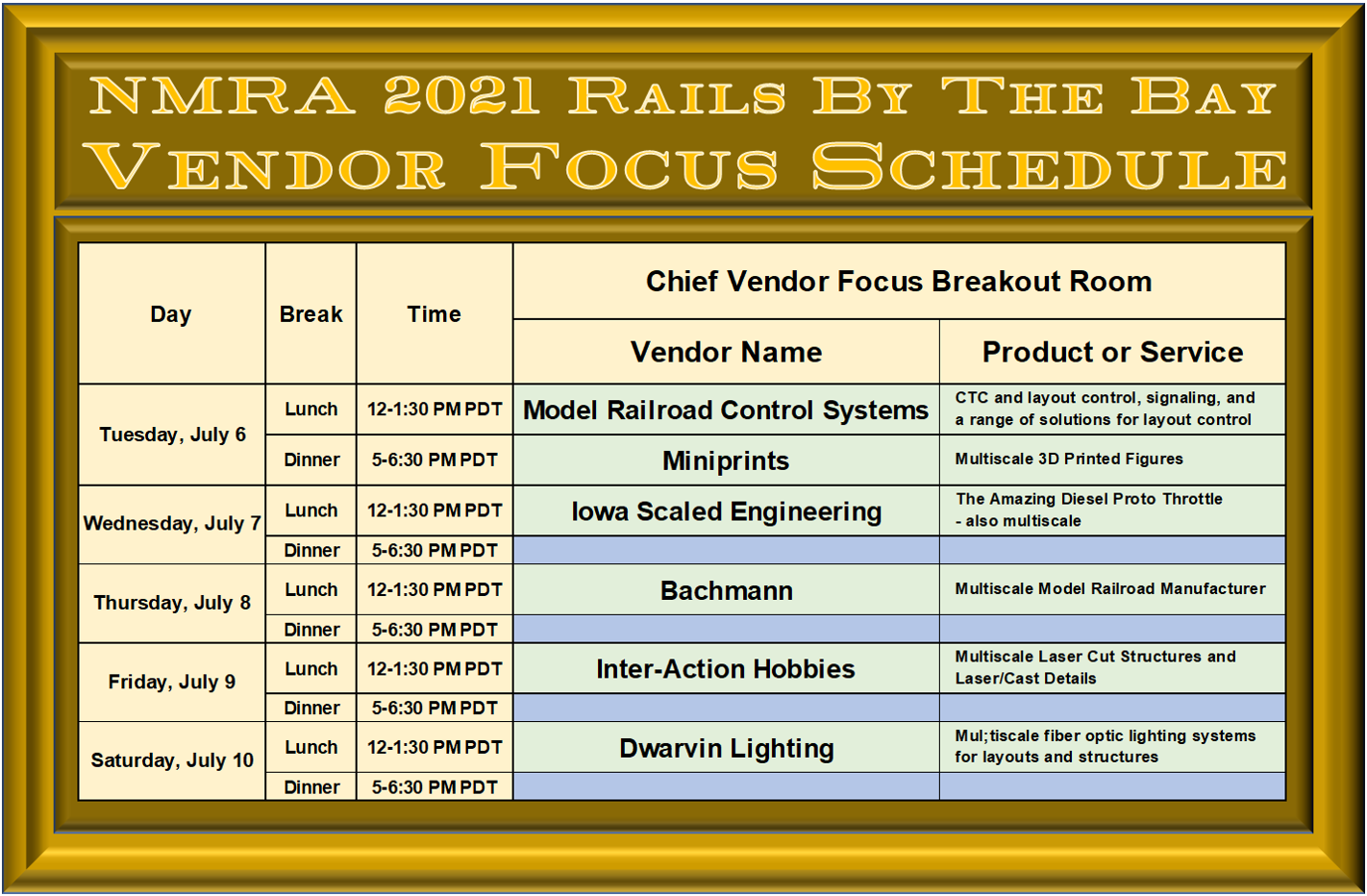 Back to Top of Page
This page last updated: