| | | |
| --- | --- | --- |
| | Welcome to Bakersfield, California! | |
QwikLinks
The Daylight Division of the Pacific Coast Region cordially invites you to attend the Daylight Express 2017 PCR Convention in Bakersfield, California, at the DoubleTree by Hilton, 3100 Camino Del Rio Court, Bakersfield, CA 93308. A dedicated team of PCR volunteers has been working together for more than a year to ensure you will have a rewarding and enjoyable experience at the Daylight Express 2017 PCR Convention.
The Daylight Express 2017 runs from Wednesday, April 19 through Sunday, April 23, 2017, starting at 12:00 PM for registration check-in and ending with the Sunday morning PCR Annual Business Meeting.
Sandwiched between the two will be a veritable smorgasbord of model railroading activities you've come to expect at PCR conventions, including clinics, contests, prototype tours, layout tours, operating sessions, breakfasts, banquet, and more!
Mark your calendars now, figure out how to get to Bakersfield, then get ready for some real model railroading fun and enjoyment.
Not an NMRA Member?
NMRA membership is not required for registration. Love scale model railroading or running trains? Then join us for five days of learning, fellowship, layout visits and tours, and see what the NMRA has to offer. Non-NMRA members must pay a $15.00 surcharge. See the Registration page for details.
NOTE: Only the "Rail" registrant is subject to the surcharge. Non-Rail/spouse registrants do not need to pay the non-member surcharge.
Registrations
Go to the Registration page to submit your online registration and pay with secure PayPal. No PayPal account needed! A mail-in registration form is also available if you'd rather pay by check.
Full Fare: $115.00, includes Registration only. Meals not included after 4:00 PM, 4/17/17.
First Timer: $95.00 – for PCR members who have not registered for the past 5 conventions.
Non-Rail/Spouse: $95.00, includes Registration only. Meals not included after 4:00 PM, 4/17/17.
Youth (12-18 years or student): $65.00, includes Registration only. Meals not included after 4:00 PM, 4/17/17.
Non-NMRA Member Surcharge, $15.00. Click here for more details.
Back to QwikLinks
What's Included?
All fares include convention registration, clinics, contests, and layout tours.
There may be extra fares for outside events or special clinics, if admission tickets, transportation, or materials are required.
"Modeling With The Masters" clinics will be extra-fare events and have a separate charge for each clinic attended. See the Modeling With The Masters page for more information.
Go to the Registration page to register.
Back to QwikLinks
Convention Hotel
The Convention Hotel for Daylight Express 2017 is the DoubleTree by Hilton, 3100 Camino Del Rio Court, Bakersfield, California. For more information about the hotel and to make reservations, go to the Hotel page.
Welcome Reception at Temblor Brewing Company
Join fellow modelers at the start of PCR's 2017 Convention this year for a registrant-only Welcome Reception at Temblor Brewing Company on Wednesday, April 19 from 6:00 pm to 9:00 pm. For a $9.00 extra fare, you get a Temblor beer or soda, plus taco bar, appetizers, sweet potato fries and other goodies. Enjoy opening-night fellowship with other modelers. Brewmaster's Chat about the on-site equipment and production process at 8:00 pm. Cash bar available for your second beer.
Temblor Brewing Company is a Bakersfield micro-brewery located at 3200 Buck Owens Blvd., 1/2 mile from the convention hotel. (MAP) **LIMITED TO 75 SEATS** so DON'T WAIT, sign up today.
Full Convention registration is required in advance, so if you haven't registered already, do so now. A $9.00 payment by PayPal (preferred) or check through March 31, 2017 or until sold out; $12.00 at the door or after April 1 on a space-available basis with proof of convention registration.
For tickets and payment information, send email to CJPALERMO1964@GMAIL.COM or phone (650) 208-3150. (This is NOT available through the Company Store.) THIS EVENT IS PRESENTED BY Hickman Palermo Becker Bingham, LLP, a San Jose-area law firm that is co-owned by Convention Co-chair Chris Palermo. Not presented by NMRA or Pacific Coast Region. Please drink responsibly.
Back to QwikLinks
Convention Car
In the 1940s and 1950s, some of the hottest freight trains on the Santa Fe Railroad were the Green Fruit Express (GFX) trains, from the farmlands of California to points all over the map. The GFX ran from California to Kansas City or Chicago.
And to honor those reefer trains that carried the potatoes from Bakersfield to Eastern markets, the Daylight Express 2017 convention car is an Accurail HO 40-foot steel reefer kit in the Santa Fe Grand Canyon paint scheme from the mid-1950s, as a representation of the reefers that ran endlessly to Chicago—and points east—to provide California produce to the Eastern United States.
A single car is $30.00, a pair of cars is $51.00, and a set of 4 cars is $86.00, all with different car numbers, 21217, 21220, 21241 and 21255, exclusive to Daylight Express 2017. On purchases less than 4 cars, we will choose the numbers. Sets of 4 will include one of each car number. (Yes, trucks and couplers are included!)
USPS Priority shipping included.
Plus 7.25% Sales Tax for California residents.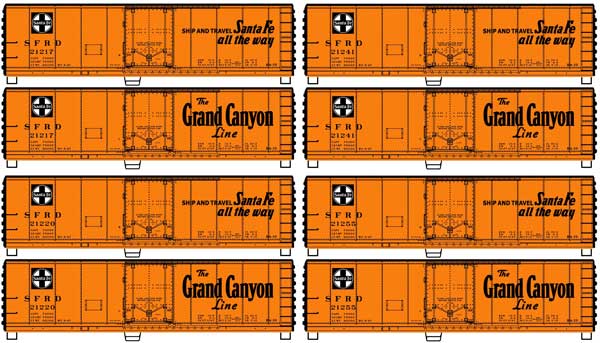 HO Scale only
Click for single large image
$30 each, $51 for two, $86 for four
USPS Priority shipping included.
Plus 7.25% Sales Tax for California residents
Back to QwikLinks
Door Prizes
We have solicited door prizes from many of the fine manufacturers of model railroad equipment and publications. They have been generous in the past, and have been again this year. We have some wonderful offerings for Daylight Express 2017. Each registrant will have a chance to win a door prize — you could be a WINNER!
Here are this year's door prize donors:
| | |
| --- | --- |
| Accurail | Elburn, Illinois |
| Alpine Division Scale Models | Artesia, California |
| Dremel | Mount Prospect, Illinois |
| Kadee Quality Products | White City, Oregon |
| Micro-Trains | Talent, Oregon |
| OMNI Publications | Palmdale, California |
| Ron's Books | Harrison, New York |
| ScaleTrains.com | Benton, Tennessee |
| Walthers | Milwaukee, Wisconsin |
| White River Productions | Bucking, Missouri |
| Woodland Scenics | Linn Creek, Missouri |
We would also welcome donations of good, new kits, ready-to-run equipment, new (or in excellent condition) books, DVDs, or modeling tools from convention attendees. If you have some of these you find surplus to your interests, bring them along and donate them for door prizes. We'll find them a new home. Donations in all scales are welcome.
Restaurants
Bakersfield has a variety of dining destinations to please everyone's taste buds. An eclectic mix of food options from around the world have found a home in Bakersfield for visitors to enjoy. Click here for a list of Bakersfield's great selection of dining destinations near the Daylight Express 2017 Convention Hotel.
Did you know Bakersfield is home to the largest population of Basque restaurants in the United States? What's Basque? Check out the Bakersfield Basque page for more information.
Vendors
Saturday we will have these commercial vendors on site in the San Joaquin Ballroom, from 8:00 AM to 7:00 PM.
See you in Bakersfield!
This page last updated: