Welcome to the Daylight Division!
Daylight is one of four divisions in the Pacific Coast Region of NMRA, with Coast, Redwood Empire, and Sierra being the other three divisions.
The PCR Daylight Division serves NMRA members residing in the California counties of Merced, Mariposa, Madera, Fresno, Tulare, Kings, Kern, San Luis Obispo, and Santa Barbara.
Division meets are held quarterly in February, May, August, and November, rotating to different locations throughout the Division to give everyone an opportunity to attend meetings nearby and share the long-distance drives. The Daylight Division is a BIG division.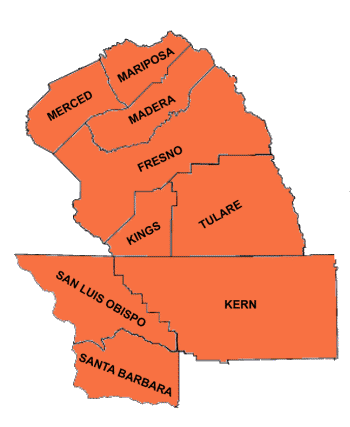 ---
CURRENT NEWSLETTER: The Daylight Observation (1.4 Mb)
Published March 15, 2023
---
ANNOUNCEMENTS
---
WALTER MIZUNO NAMED DAYLIGHT DIRECTOR
November 2, 2021 • After a lengthy search for a Daylight Division member to take on the role of Director, Walter Mizuno was named as Daylight Director. Walter takes over from Ed Merrin from the Redwood Empire Division, who graciously accepted the appointment when no one else in Daylight wanted it. We sincerely appreciate Ed stepping in and representing the Division at PCR Board of Directors meetings. Congratulations to Walter!
---
BRUCE MORDEN RECEIVES JOHN ALLEN MEMORIAL AWARD!
April 24, 2021 • During the Sugar Pine Centennial 2021 Awards Presentations, held via Zoom, Bruce Morden, of Carpinteria, was named as the newest recipient of the John Allen Memorial Award. This prestigious award is presented annually to the individual who the selection committee, consisting of all living recipients of the John Allen Memorial Award, feels best exemplifies John Allen's support for the model railroad hobby through personal involvement and willingness to assist others in their pursuit of the hobby. Congratulations, Bruce! Well deserved indeed.
Previous Daylight Division recipients of the award and on the selection committee are: Chuck Harmon, MMR® (1989); Bill Scott (1998); Dave Grenier (2015), and Doug Wagner (2020).
---
DOUG WAGNER RECEIVES PCR PRESIDENT'S AWARD!
April 24, 2021 • During the Sugar Pine Centennial 2021 Awards Presentations, held via Zoom, PCR President Chris Palermo named Doug Wagner, of Bakersfield, the recipient of the 2021 PCR President's Award. Congratulations, Doug!
---
BOB SEXTON NAMED DAYLIGHT MEMBER OF THE YEAR!
April 24, 2021 • During the Sugar Pine Centennial 2021 Awards Presentations, held via Zoom, Daylight Director Ed Merrin named Bob Sexton as the 2021 Daylight Division Member of the Year. Congratulations, Bob!
---
The Daylight Observation is now only available online at the Daylight Division website, www.pcrnmra.org/daylight/newsletters.html. Printed issues will no longer be mailed.
---
CONTRIBUTING TO THE DAYLIGHT OBSERVATION
We want contributions to the newsletter from and for the benefit of our members. Many members cannot make it to our quarterly meets and would like to know more about our comings and goings. You can get AP points for the Model Railroad Author certificate by getting items published in division and regional publications. (See the NMRA website for more information or contact the Daylight AP Chairman, Dave Grenier at grenida@pacbell.net.)
We're also looking for photographs of your layouts with captions or short stories about each. What do you say people? How about some publicity for your layouts that you work so long and hard on?
Click for a list of suggested subjects.
---
GROUPS.IO
Email addresses for the Daylight Division's group on Groups.io, Daylight Division - PCR:
---
MODEL & PHOTO CONTEST CATEGORIES
---
FUTURE MEETS
Top of page
This page last updated: