Next Daylight Meet
9:00 AM, Saturday, July 28, 2018, Santa Barbara
Gary Siegel's Home
1143 Camino Viejo
Santa Barbara, CA
MAP


Meet Coordinator:
Bruce Morden
UPDATED: )
---
---
Daylight Division Autumn Meet
We hope you can join us for a fun-filled day of activities, including clinics, model and photo contests, layout tours, door prizes, the "World Famous" Daylight White Elephant Auction (well, WE know about it!), and, of course, the new abbreviated quarterly Daylight Division business meeting.
Doors open at 9:00 AM with registration, refreshments, contest entries, Meet 'n' Greets. The program begins at 10:00 AM. There will also be time to wander around Gary's indoor HO scale Louisville & Nashville, Eastern Kentucky Division layout or you can meander under the redwood trees around the outdoor 1:32 scale Southern Pacific Santa Cruz Division.
Registration is $4.00 for NMRA members, $5.00 for non-members. Add $5.00 for lunch (pizza and soda).
Schedule
9:00 am – Registration, Contest Entries, Refreshments, Meet 'n' Greets
10:00 am – Welcome, Clinics
12:00 pm – Daylight Business Meeting, Door Prizes, White Elephant Auction
1:00 pm – TBA Lunch served on site
2:00 pm – Layout Tours
Clinics
Bruce Morden - "Track Cleaning"
More coming soon...
Contests
Categories
Model: Diesel and other Locomotive (non-steam)
Photo: Model Black & White
(See Contests webpage for the two-year schedule)
There will be favorite and judged model contests. The photo contest is a popular vote contest. Only NMRA members in good standing may enter the contests. Non-NMRA guests are encouraged to bring display-only models and photographs. Awards will be presented to the winners of each contest.
See the "Contests" webpage for more information about the contests and future contest categories.
There will be tables for display-only items, in addition to contest entries. Please bring whatever items (prototype, model or photograph) that you are especially proud of and would like to display for our enjoyment.
Door Prizes & Auction
Donations of new, unused items for door prizes would be especially welcome.
Remember to bring plain-wrapped railroad-related items for the White Elephant Auction. The more the merrier! Think of it as "re-gifting!"
All proceeds benefit the Daylight Division.
Lunch
Lunch will tentatively be pizza, soda, water and served onsite for $5.00, payable at registration.
After Meeting Outside Activities
To be announced soon!
Driving Directions to Meet MapQuest Map
From the Central Valley:

- Drive south on CA-41 to US-101 in Paso Robles, then follow "From the North" directions below
OR drive south on CA-99 toward Los Angeles (It's about the same time/distance either way!)
- CA-99 S becomes I-5 S after Bakersfield
- Take the CA-126 W exit, EXIT 172, toward Ventura/Newhall Ranch Rd.
- Take the 1st right onto CA-126 W.
- CA-126 W becomes US-101 N.
- Follow "From the South" directions below.



From the North:

- Drive south on US-101 toward Santa Barbara.
- Take the Cabrillo Blvd/Hot Springs Rd exit, EXIT 94B, on the LEFT toward Hot Spring Rd.
- Turn left at the end of the offramp.
- Continue to the traffic circle in left lane and take the 2nd exit onto Hot Springs Rd.
- At the Stop sign, turn left onto Sycamore Canyon Rd.
- Take the 2nd left at Stop sign onto Camino Viejo Rd.
- 1143 Camino Viejo will be on the left.



From the South:

- Drive north on US-101 toward Santa Barbara.
- Take the Olive Mill Road exit, EXIT 94A.
- Turn right onto Olive Mill Rd.
- Take the 3rd left onto Hot Springs Rd.
- At first stop sign, turn right onto Sycamore Canyon Rd.
- Take the 2nd left at the stop sign onto Camino Viejo.
- 1143 Camino Viejo will be on the left.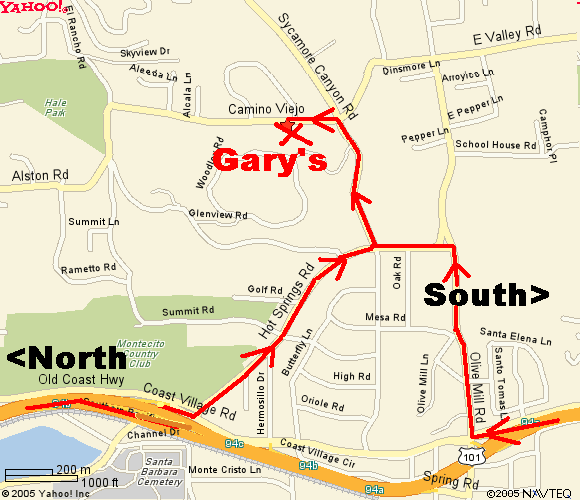 ---
Future Meets
July 28, 2018 - Gary Siegel's home, Santa Barbara
November 2018 - TBA
February 2019 - TBA
May 2019 - TBA
Top of page
This page last updated: