Next Daylight Meet
9:00 AM, Saturday, January 20, 2018
Kingsburg Depot
Historic SP Depot
1465 California Street
Kingsburg, California
MAP


Coordinator:
Neil Fernbaugh
UPDATED: )
---
---
Daylight Division Winter Meet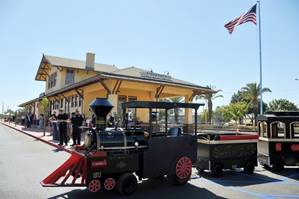 The next Daylight Division meet will be Saturday, January 20th at the Kingsburg Depot, 1465 California Street in Kingsburg, California. The meet starts at 9:00 AM with room set-up (please arrive early and help!), registration, refreshments, contest entries, and Meet'n'Greets.
The Kingsburg Depot was lovingly restored to its 1923 condition between 2005 and 2015 by the Friends of the Historic Kingsburg Depot. It is the only remaining Southern Pacific CS 18 depot with a covered patio — a perfect place for railfanning and photo ops.
We hope you can join us for a fun-filled day of activities, including clinics, model and photo contests, layout tours, door prizes, and the "World Famous" Daylight White Elephant Auction (well, WE know about it!).
The clinics will begin at 10:00 AM.
Cost:
– Registration is $4.00 for NMRA members, $5.00 for non-members
Clinics
To be determined
Contests
Categories
Models: Freight Car
Photos: General Rail Subjects
Please bring any new models you would like to share, even projects that are still in the works. Everyone who enters the model contest or photo contest, will receive a voucher of one drawing ticket for a cash prize of $25.00. There will be favorite and judged model contests. The photo contest is a popular vote contest. Only NMRA members in good standing may enter the contests. Non-NMRA guests are encouraged to bring display-only models and photographs. Awards will be presented to the winners of each contest.
See the "Contests" webpage for more information about the contests and future contest categories.
There will be tables for display-only items, in addition to contest entries. Please bring whatever items (prototype, model or photograph) that you are especially proud of and would like to display for our enjoyment.
Door Prizes & Auction
Donations of new, unused items for door prizes would be especially welcome.
At various times throughout the meeting we will be having our Famous White Elephant Auction, so remember to bring plain-wrapped railroad-related items for the auction. The more the merrier! Think of it as "re-gifting!"
All proceeds benefit the Daylight Division.
Lunch
TBA
Outside Activities
To be determined
Driving Directions to Meet MAP
From the South:

Drive North on CA-99
Take the 18th Ave exit, EXIT 111, toward Rd 12.
Keep right to take the Frontage Rd ramp toward Sanger/Pine Flat Lake/Kingsburg/Business Dist.
Merge onto Davis Ave.
Turn right onto Draper St.
Take the 2nd right onto California St.
The Kingsburg Depot is on the right.

From the North:

Drive South on CA-99
Take the CA-201 exit, EXIT 112 toward Business Dist/Kingsburg.
Make a slight left onto CA-201/Sierra St.
Turn right onto Simpson St.
Turn left onto Draper St.
Take the 1st right onto California St.
The Kingsburg Depot is on the right.
---
Future Meets
January 20, 2018 - Kingsburg Depot, Kingsburg
May 2018 - TBA
August 2018 - TBA
November 2018 - TBA
Top of page
This page last updated: