Convention Hotel Information
Taking It To The Streets Joint PCR/FRRS 2016 Convention hotel is the DoubleTree by Hilton Hotel Modesto, 1150 Ninth Street, Modesto, CA 95354-0823. (MAP) It is important that our block of rooms be filled in order to have access to the rooms needed for clinics, contests, Banquet, and other activities.
NOTE: Hotel reservations are almost sold out. Less than 20 available per night. Remember you must book by 3/30/16 to guarantee availability and convention pricing.
The hotel has created a special registration page for us. Click here to go directly to this page and register online for the hotel.
OR you can make a reservation by calling either central reservations at 1-800-222-TREE or the Modesto Hilton hotel directly at 209-526-6000 and giving the three letter code "PCR" or asking for the PCR-Convention 2016 group room block.
All reservations should be made no later than March 30, 2016. At that point all unused rooms will be released back into general inventory. The hotel will continue to accept reservations, based on availability; however they cannot guarantee the special discounted rate will be available past the cutoff date.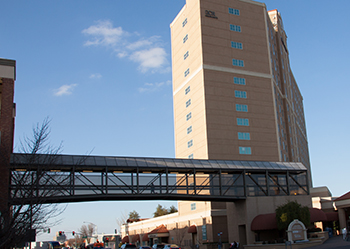 A unique link for making a reservation online will be available by Tuesday, Jan 19, 2016.
The convention special room rate is: $109.00 for a king or double bed room.
Parking is NOT free but reduced (from $11 to $6/day) for hotel residents at the parking garage directly across from the hotel on 9th Street. Get your parking ticket validated at the front desk.
There is an enclosed walkway between the garage and hotel.
Making Reservations
Why Should I Stay at the Convention Hotel?
It is important to note that the convention committee must commit to a block of rooms as the incentive to get access to all of the space needed for the clinics, contests, banquet and other events offered to convention attendees.
If we don't fill the room block as required, it will cost the convention a substantial additional amount. We priced the convention to keep it a low cost event for our attendees. Please help us ensure this low cost by staying at the convention hotel. We're sure that you will be pleased with your decision.
DoubleTree by Hilton Hotel Modesto
1150 Ninth Street
Modesto, California, 95354-0823
Phone: (209) 526-6000

This page last updated: