| | | |
| --- | --- | --- |
| | Welcome to Modesto, California! | |
The Pacific Coast Region and the Feather River Rail Society cordially invite you to attend Taking It To The Streets 2016 Joint PCR/FRRS Convention in Modesto, California, at the DoubleTree by Hilton Hotel, 1150 9th St. Modesto, CA 95354. (MAP) Plans and preparations are well under way by a dedicated team of PCR and FRRS volunteers working together to ensure you will have a rewarding and enjoyable experience at Taking It To The Streets 2016 Joint PCR/FRRS Convention.
Online Registration Has Ended.You can still register manually at the registration desk starting at noon on Wednesday, April 20.
NEW: We have a great new special offer. For Friday, April 22 only, get the Sierra Railroad Tour plus One Day Registration for only $85 - that's a $20 savings off the regular $40 day fare. Get your ticket now at the Company Store. UPDATE 4/19 - Only ONE seat left!
Note: For those planning to purchase anything at the convention, we do not have the capability to accept credit cards. Cash or check payment only.
GUEST SPEAKER: NORM LUCAS.
The PCR 2016 Convention Committee is pleased to announce that our Banquet guest speaker is long-time railroader Norm Lucas. Brief bio:
Norm Lucas hired out as a brakeman on the Sacramento Northern Railroad on May 7, 1971. He was promoted to conductor in 1973. During his career, he worked all jobs the SN had to offer, including roustabouts in Sacramento, Woodland and Yuba City, as well as the SN Detour, Vacaville Turn, Pittsburg Roadswitcher, and Chico Local.
As a UTU General Chairman (union representative), he represented conductors, brakemen, and switchmen through three railroad mergers SN-WP, WP-UP, and then UP-SP. He also served as a UTU union representative for the operating employees on the CCT, M&ET, Tidewater Southern, and San Joaquin Valley Short Line Railroads.
He retired from the UPRR in April, 2010 with 39 years of service. His last job worked was on the P&G (Proctor and Gamble) job in South Sacramento as a RCL (Remote Control Locomotive) operator.
Norm has been a docent volunteer conductor and brakeman at the California State Railroad Museum since 1983. In 2010, he was appointed Assistant Manager of Museum Railroad Operations, a position he holds to this date. From 2013–2015, he taught the General Code of Operating Rules at Sacramento City College. He is a life long resident of Sacramento, and is marred to Sheila. They have two grown children.
SIERRA TOUR:
As of today, 4/19/216, there is only ONE seat left. Visit the Company Store to purchase your ticket today.
NOTE:To attend the convention, you must be a member (or join) one of the two organizations but it is NOT necessary to be a member of both.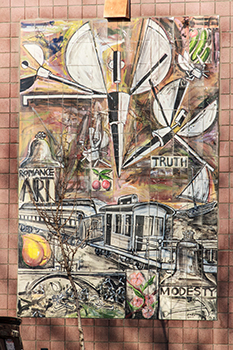 Taking It To The Streets 2016 runs from Wednesday, April 20 through Sunday, April 24, 2016, starting at 12:00 PM for registration check-in and ending with the Sunday morning PCR Annual Business Meeting.
Sandwiched between the two will be a veritable smorgasbord of model railroading and railroading activities you've come to expect at PCR or FRRS conventions, including clinics, contests, prototype tours, layout tours, operating sessions, breakfasts, banquet, and more!
Mark your calendars now, figure out how to get to Modesto, then get ready for some real model railroading fun and enjoyment.
What can you expect at this Convention?
Clinics - The clinics program will focus on new innovations and techniques. It will also feature clinics which capture the oral history of actual railroad experiences from our members.
Layout tours - Layout tours will take advantage of the large number of high-quality layouts in the Central Valley. There are great layouts in all scales and gauges! Having the Convention hotel in Modesto in the Central Valley provides a central location for getting to a number of these great layouts.
Prototype Tours - We have three prototype tours scheduled including the Sierra Northern Railway, Modesto & Empire Traction, and Central California Traction. Additionally there is a walking tour of a local 3-D Printing facility. Visit the Outside Activities page for more details.
Convention Cars - We will have a convention car this year. It is a Modesto & Empire Traction 53' Evans Double-door Boxcar. You have the choice of a set of four (different numbers) or you can purchase one to three individually. Cars should be ordered in advance for pickup at the convention; no shipping is available. Any cars not pre-ordered will be available for purchase at the convention. Limited number available. Click here to see photos. Purchase at the Company Store.
Registration
The Early Bird Package has ended. The Registration Package is now $99 and includes Registration, Awards Banquet, and PCR Breakfast.)
The Non-rail registration, which includes Registration, Awards Banquet, and Non-rail Lunch, costs the same: $99. Note that the Non-rail package does not include the PCR Breakfast.
What's Included?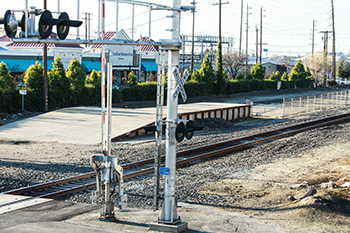 All fares include convention registration, clinics, contests, and layout tours.
There may be extra fares for outside events or special clinics if admission tickets, transportation, or materials are required. The Registration Package Special also includes the Awards Banquet and PCR Breakfast while the Non-rail Registration Package Special includes the Awards Banquet and Non-rail Lunch.
Go to the Registration page to register.
See you in Modesto!
This page last updated: