QwikLinks
This page last updated: 16 April 2018
(Please disregard date at bottom of page.)
---
The Redwood Empire Division of the Pacific Coast Region and the Northwestern Pacific Railroad Historical Society cordially invite you to attend the Enduring Rails 2018 PCR & NWPRRHS Convention in Rohnert Park, California, at the DoubleTree by Hilton Hotel Sonoma Wine Country, One Doubletree Drive, Rohnert Park, CA 94928. (MAP)
Enduring Rails 2018 runs from Wednesday, April 4 through Sunday, April 8, 2018, starting at 12:00 PM for registration check-in and ending with the Sunday morning PCR Annual Business Meeting.
Sandwiched between the two will be a veritable smorgasbord of model railroading activities you've come to expect at PCR conventions, including clinics, contests, prototype tours, layout tours, operating sessions, breakfasts, banquet, and more!
Mark your calendars now, figure out how to get to Rohnert Park, then get ready for some real model railroading fun and enjoyment.
Registrations
Go to the Registration page to submit your online registration and pay with secure PayPal. No PayPal account needed! A mail-in registration form is also available if you'd rather pay by check.
Full Fare: $118.00, includes Registration, Awards Banquet, and PCR Breakfast.
First Timer: $98.00 – for PCR members who have not registered for the past 5 conventions, includes Registration, Awards Banquet, and PCR Breakfast.
Non-Rail/Spouse: $98.00, includes Registration, Awards Banquet, and PCR Breakfast.
Youth (12-18 years or student): $68.00, includes Registration, Awards Banquet, and PCR Breakfast.
Day Fare: $40.00, includes a one-day registration. Banquet is not included.
Back to QwikLinks
What's Included?
All fares, EXCEPT Day Fares, include registration, Awards Banquet, PCR breakfast, clinics, contests, and layout tours.
There may be extra fares for outside events or special clinics, if admission tickets, transportation, or materials are required.
Go to the Registration page to register.
Back to QwikLinks
Convention Hotel
The Convention Hotel for Enduring Rails 2018 is the DoubleTree by Hilton Hotel Sonoma Wine Country, One Doubletree Drive, Rohnert Park, California. (MAP)
Now Accepting Reservations!
No group code needed! Just click the link below:
http://group.doubletree.com/PacificCoastRegion
Back to QwikLinks
Welcome Reception at Bear Republic Brew House
SOLD OUT!
Enduring Rails 2018 is pleased to announce that registration is SOLD OUT for the Wednesday night Welcome Reception presented by the San Jose law firm of Hickman Palermo Becker Bingham, LLP. This extra-fare event is Wednesday, April 4 from 6:00 to 9:00 PM at Bear Republic Brew House, adjacent to the convention hotel. You'll enjoy a private room at Bear Republic's Tiki Bar, a buffet supper featuring grilled Tri-Tip and smoked chicken, salad and sides, plus 2 servings of the beer and wine of your choice, as well as the fellowship of your fellow modelers. Schedules permitting, a brewmaster's chat will be provided.
Bear Republic Brew House is a Rohnert Park micro-brewery located at 5000 Roberts Lake Road . (MAP)
Contact Chris Palermo with any questions at (650) 208-3150 or email to cpalermo@hptb-law.com.
Back to QwikLinks
Convention Car
This year's convention car was a Northwestern Pacific 1900 series, USRA double-sheathed boxcar kit by Accurail, with six numbers available (each kit includes an NWP herald as a convention decal). The car numbers are 1901, 1912, 1923, 1948, 1973, and 1995, all exclusive to Enduring Rails 2018. Also available is a set of eleven renumber decals to expand your fleet.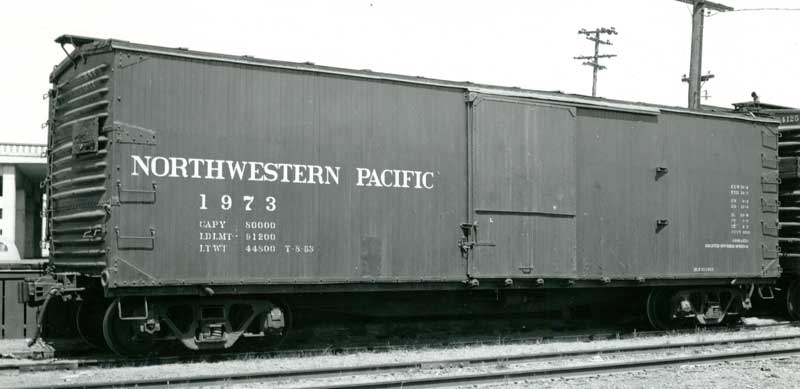 HO scale only
$25 each, $48 for set of 2, $92 for set of 4, $126 for set of 6
All prices include California sales tax where applicable.
Photo by Will Whittaker (NWPRRHS Archive Collection)
A single car is $25.00, a pair of cars is $48.00, a set of 4 cars is $92.00, and a set of 6 cars is $126.00. On purchases of less than 6 cars, we will choose the numbers. Sets of 6 will include one of each car number.
The Company Store is now closed, but you may still order the cars on the Northwestern Pacific Railroad Historical Society's website at www.nwprrhs.org/.
Back to QwikLinks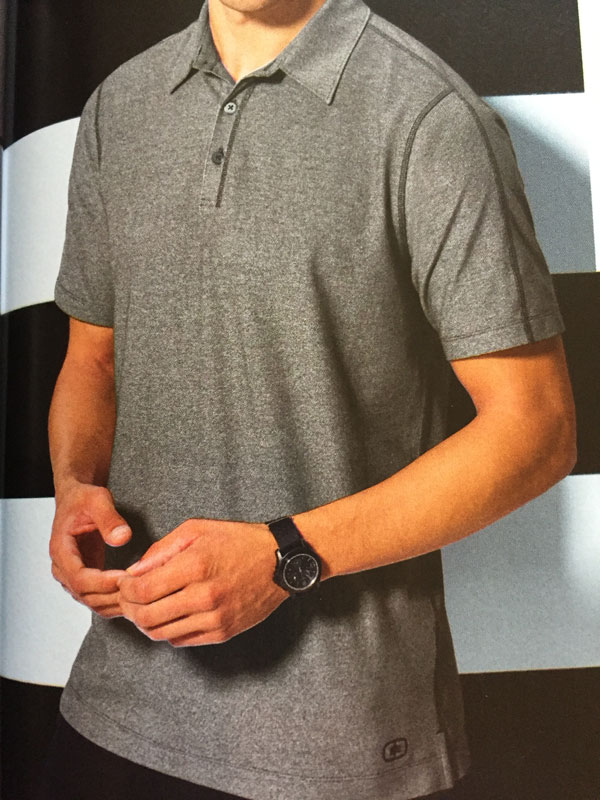 Convention Shirt
This year's convention shirt is a 5oz. 100% cotton, sport grey polo shirt, with or without a pocket. The convention logo will be embroidered above the pocket, with a price of $30.00 for all sizes, small to 5X large. Shirts must be ordered by March 2, 2018 and may be picked up at the convention. Sorry, sales are now closed.
Back to QwikLinks
PCR Movie Night
Thursday evening at 7:30 PM. (Ask at Registration Desk for the location.) This year's entertainment will feature some episodes of Oh Dr. Beeching!, a British comedy series (1995-1997) about the trials and tribulations of the staff at Hatley railway station in 1960s rural England, who are all wondering if Dr Beeching will close them down. The employees of the state run railway system are the usual bunch of misfits, constantly putting their foot in it just trying to live their normal lives.
Back to QwikLinks
Door Prizes
We are soliciting door prizes from many of the fine manufacturers of model railroad equipment and publications. They have been generous in the past, and we anticipate some wonderful offerings for Enduring Rails 2018. Each registrant will have a chance to win a door prize — you could be a WINNER!
Here are this year's door prize donors:
| | |
| --- | --- |
| Accurail Inc. | Elburn, Illinois |
| Carol Alexander | Santa Rosa, California |
| Verne Alexander | Petaluma, California |
| Bowser Mfg. | Montoursville, Pennsylvania |
| Fundemonium! | Rohnert Park, California |
| Dave Grenier | Fresno, California |
| Kadee™ Quality Products Co. | White City, Oregon |
| Kalmbach Media Co. | Waukesha, Wisconsin |
| The Loose Caboose Hobbies | Napa, California |
| Micro Engineering Company | Fenton, Missouri |
| Poggies Trains and Tools, Ltd. | Santa Rosa, California |
| Redwood Empire Division (RED) | Northwestern California |
| Tam Vallley Depot | San Diego, California |
| Walthers | Milwaukee, Wisconsin |
| Woodland Scenics | Linn Creek, Missouri |
| Xuron Corp | Saco, Maine |
We would also welcome donations of good, new kits, ready-to-run equipment, new (or in excellent condition) books, DVDs, or modeling tools from convention attendees. If you have some of these you find surplus to your interests, bring them along and donate them for door prizes. We'll find them a new home. Donations in all scales are welcome.
Back to QwikLinks
Thanks!!!
The committee would like to acknowledge and thank the local company that printed the program attendees will receive at the convention. They were fast, flexible and competitive.
Express Printing
5430 Commerce Blvd, Suite H
Rohnert Park, CA 94928
(707) 585-3248
Website
Back to QwikLinks
See you in Rohnert Park!
This page last updated: