Advance Section
The Advance Section is an opportunity to jumpstart your convention experience on Wednesday, April 29, one day before the convention officially begins. Planning is still a work in process, but we can say that we'll have Speeder Rides in Niles Canyon in the late morning, followed by a Clear to the Coast 2020 exclusive behind-the-scenes tour of the SPCRR shops at Ardenwood Farm Historic Park in Fremont in the afternoon. Afterwards, Jack Burgess will have his famed Yosemite Valley Railroad open for a layout tour. Also open for a layout tour, is nearby Jim Dias, with his beatiful recreation of the Keddie Wye on his Western Pacific Railroad HO layout. We are working on getting other layouts to open.
---
Speeder Rides in the Canyon
NOTE: This is a preliminary announcement. Ride times and costs should be added soon, hopefully by mid-January.
Wednesday, April 29, starting at xx:00 AM – If you have never been on a speeder, you are truly missing something special. For those who don't know what a speeder is, it's a small gasoline engine powered "car" that runs on rails. Riding one is an absolute blast!
For an idea of what it's like to ride a speeder, click here.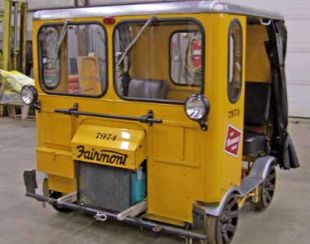 The group that owns the speeders takes them all over the place. It's kinda like a motorcycle gang on rails. (Okay, we're joking, but you got the idea.) Enough speeder owners have volunteered their speeder so that we can have xx people for each time slot.
The rides are Wednesday, April 29, at xx:00 AM, starting at the Niles Canyon Railway Niles Station, running through historic and scenic Niles Canyon to Brightside and back.
NOTES & ADVISORIES:
Deadline to buy tickets is TBD, after which remaining seats will be sold to the general public by the speeder club.
Riders must wear long pants and closed shoes, preferably not tennis shoes.
Riders will also be required to sign two legal releases, one for the speeder club and one for the Niles Canyon Railway.
Price: $XX.00 (limit XX seats per tour) First come, first served!

Tickets will go on sale on the "Company Store" page once we have the cost, times, and number of riders per time slot.
If not registered, please go to the "Registration" page to register for the Convention. Speeder ride tickets can also be purchased when registering.
---
SPCRR at Ardenwood Tour
Society for the Preservation of Carter Railroad Resources (SPCRR) - A Clear to the Coast 2020 Exclusive Tour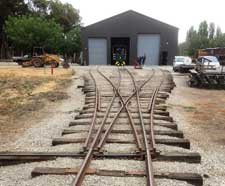 Clear to the Coast 2020 is pleased to be working with the Society for the Preservation of Carter Railroad Resources (SPCRR) at the Ardenwood Historic Farm Regional Park in Fremont, a hidden gem in our backyard, to bring you a tour to areas not normally open to the public.
This tour will be the afternoon of Wednesday, April 29th, one day before the official start of the convention. At least 18 attendees are needed to cover the cost of the train crew that day, which is not a normal day of operations.
The SPCRR charter is to locate, preserve, restore and interpret the products of the first industry of the City of Newark, Carter Brothers, and for the historical and educational benefit of the general public. The focus is on equipment that had a significant influence or impact upon the operation of the South Pacific Coast Railroad.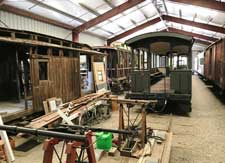 The group maintains a varied collection of Southern Pacific narrow gauge equipment. Equipment found from as far away as ranches in Nevada is acquired and brought into the facility for repair or restoration by a group of dedicated volunteers. On the tour, we'll be able to go into their car barn that's filled with a variety of restored rolling stock and work in progress. The car barn and associated trackage are areas not open to the public.
The restored cars used for transporting passengers within Ardenwood Historic Farm were originally pulled by a draft horse. The horse has now been replaced by a Plymouth Locomotive Works 5-ton diesel-hydraulic locomotive.
We'll meet at 1:00 PM at the station at the main entrance to Ardenwood Historic Farm, 34600 Ardenwood Boulevard, Fremont (MAP). From there, a train will take us back to the car barn for a guided tour. Attendees are free to take photos. Some of the equipment will be available to photograph outside the Car Barn. After the tour, and some time to look around, we'll reboard the train and return to the station about 3:00 – 3:30 PM.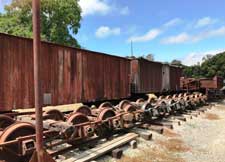 The cost for this tour is $14.00 and includes a six-month SPCRR membership and newsletter subscription. Attendees will be required to sign a Liability Release before boarding the train. This is a self-driving event.
Purchase your ticket for this tour in advance when you register for the convention or, if already registered, at the Company Store page.
NOTES:
A portion of the trackage at the park has not yet been certified for public operations, but they can take SPCRR members to the Car Barn, hence the need for every attendee to be a SPCRR member.
Please sign up for this event by March 27, 2020 to ensure you have a spot on this special event.
Wear clothing and shoes suitable for walking on dirt and ballast.
Don't forget your camera!
---
Layout Tours
---
| | | |
| --- | --- | --- |
| Jack Burgess | Newark | 47 miles |
| | |
| --- | --- |
| Wednesday, 4/29 | Following SPCRR at Ardenwood Tour |
The layout duplicates the prototype Yosemite Valley Railroad in August 1939. The layout features handlaid track and turnouts with slow-action motors (some with working switchstands) and NCE radio-controlled DCC throttles with SoundTraxx decoders in all locomotives. All of the locomotives and equipment are correct for 1939. Scenery is 100% complete and duplicates prototype topography and vegetation. There are approximately 100 scratch-built structures on the layout, all of which duplicate actual buildings on the prototype. Rolling stock is a combination of scratch-built models and prototypically-correct resin and styrene kits. Operation is via TT/TO using prototype-based forms.
Jack's Yosemite Valley Railroad has been featured in numerous articles in Model Railroader, Railroad Model Craftsman, Model Railroad Hobbyist, Great Model Railroads and after completion of the layout in 2011, in the 2013 issue of Great Model Railroads.
Website: www.yosemitevalleyrr.com
YouTube Video: https://youtu.be/EHGkZHLqALY
---
| | |
| --- | --- |
| Wednesday, 4/29 | Following SPCRR at Ardenwood Tour |
A beautiful re-creation in HO scale of the Western Pacific RR in the Spring of 1938. The area of the WP modeled is along the Feather River, including the Keddie Wye and a small logging area. The fidelity to prototype of the scenery has been praised by old WP employees, who readily recognize the scenes.
An interesting touch is the many sound modules included in the many detailed scenes. The layout has been featured in Railroad Model Craftsman June 1996, July 2000, March 2011, Railmodel Journal May 2000, Model Railroader September 2001 and Model Railroad Hobbyist May-June 2010.
TSG Video on YouTube: https://www.youtube.com/watch?v=dqzjjjx_Pys
---
We're working on getting more layout tours!

Check the News & Updates page for future updates.
This page last updated: