Schedules
NOTE:This page last updated: 3 April 2018
(Please disregard date at bottom of page.)
IF THERE ARE ANY DESCREPANCIES BETWEEN ANYTHING ON THIS PAGE AND ANY OTHER PAGE ON THE WEBSITE, THE OTHER PAGE IS CORRECT!!!
Updates on this page, especially the Daily Schedule Grid and Master Schedule, can and will lag behind updates on the subject-specific webpages. I can only do so much in a day! Dave Grenier, Webmaster
All schedules subject to change without notice.
Check the News & Updates page frequently for changes.
Daily Schedule Grid
ADDENDUM – Changes NOT shown:
None! The website is up-to-date and complete as of 1:33 AM, 3 April 2018. Additional changes will be posted on the Information Board near the Registration Desk at the convention.
(Adobe Reader™

or up-to-date browser required.)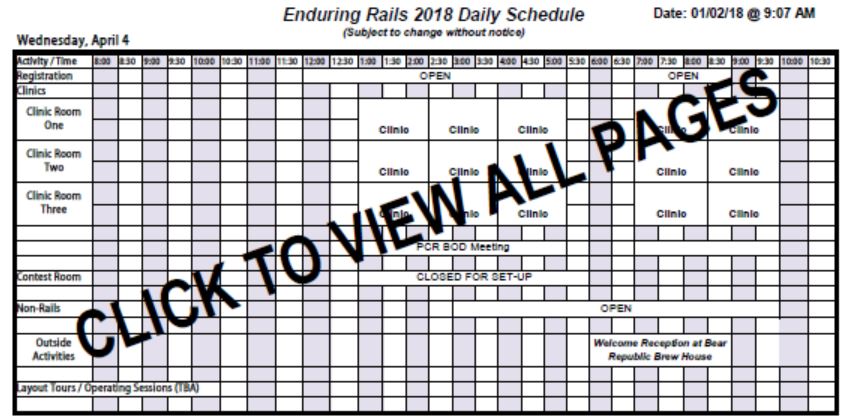 "QwikLook" Master Schedule
NOTE: Traditional lunch and dinner breaks not shown. Subject to change without notice!
WEDNESDAY, APRIL 4
12:00 PM - 5:30 PM – Registration Desk Open
12:00 PM - 5:30 PM – Company Store Open
12:00 PM - 8:00 PM – Layout Tour - Horstmeyer
1:00 PM - 4:00 PM – PCR Board of Directors Meeting
12:00 PM - 5:30 PM – Contest Room Open during set-up
1:00 PM - 8:00 PM – Layout Tour - Learn
1:00 PM - 10:00 PM – Clinics
3:00 PM - 9:00 PM – Non-Rail Room Open
6:00 PM - 9:00 PM – Welcome Reception at Bear Republic Brew House, presented by Hickman Palermo Becker Bingham, LLP.

Sorry, we sold out.


7:00 PM - 8:00 PM – Registration Desk - Open for Pre-registered pick-up only
7:00 PM - 8:00 PM – Company Store Open
7:00 PM - 11:00 PM – Operating Session - Kaufman

THURSDAY, APRIL 5
8:00 AM - 12:00 PM – Operating Session - Schmidt
8:30 AM - 5:30 PM – Registration Desk Open
8:30 AM - 5:30 PM – Company Store Open
9:00 AM - 5:30 PM – Contest Room Open
9:00 AM - 5:00 PM – Layout Tour - Pethoud
9:00 AM - 9:00 PM – Non-Rail Room Open
9:00 AM - 10:00 PM – Clinics
10:00 AM - 2:00 PM – Korbel Wine Tasting Tour
12:00 PM - 1:30 PM – Non-Rail Activity: Luncheon, Boulevard Cafe, Petaluma
1:00 PM - 4:00 PM – Layout Tour - Wells
1:00 PM - 5:00 PM – Operating Session - Merrin
1:00 PM - 8:00 PM – Layout Tour - Learn
1:30 PM - 5:00 PM – Non-Rail Activity: Petaluma Village Outlet Mall
2:30 PM - 5:00 PM – Operating Sessions (15-25 min each) - Pethoud
7:00 PM - 8:00 PM – Registration Desk Open
7:00 PM - 8:00 PM – Company Store Open
7:00 PM - 8:30 PM – LDSIG Meet & Greet Roundtable
7:00 PM - 11:00 PM – Operating Session - Swearingen
7:30 PM - 10:00 PM – PCR Movie Night
8:30 PM - 10:00 PM – OPSIG Meet & Greet Roundtable

FRIDAY, APRIL 6
9:00 AM - 5:30 PM – Registration Desk Open
9:00 AM - 5:30 PM – Company StoreOpen
9:00 AM - 5:30 PM – Contest Room Open
9:00 AM - 5:00 PM – Layout Tour - Pethoud
9:00 AM - 9:00 PM – Non-Rail Room Open
Times TBA – Non-Rail Activity: Charles Schulz Museum Tour
9:00 AM - 10:00 PM – Clinics
11:00 AM - 1:00 PM – Sturgeon's Mill Tour
1:00 PM - 3:30 PM – Operating Sessions (15-25 min each) - Pethoud
1:00 PM - 5:00 PM – Operating Session - Simard
Times TBA – Non-Rail Activity: Luther Burbank Home & Gardens Tour
1:00 PM - 5:00 PM – Layout Tour - Peters
1:00 PM - 8:00 PM – Layout Tour - Learn
2:00 PM - 7:00 PM – Layout Tour - Schoenstein
5:00 PM - 9:00 PM – Layout Tour - Weiss
7:00 AM - 8:30 AM – Vendor Sales Set-up
8:30 AM - 7:00 PM – Vendor Sales
7:00 PM - 9:00 PM – Vendor Sales Teardown
6:00 PM - 9:00 PM – Layout Tour - Campagna
6:00 PM - 9:00 PM – Layout Tour - Kaufman
6:00 PM - 9:00 PM – Layout Tour - Merrin
6:00 PM - 9:00 PM – Layout Tour - Providenza
6:00 PM - 10:00 PM – Layout Tour – Alexander
7:00 PM - 8:00 PM – Registration Desk Open
7:00 PM - 8:00 PM – Company Store Open


CANCELLED

– Operating Session - Alexander
7:30 PM - 10:00 PM – PCR Bingo Night

SATURDAY, APRIL 7
6:30 AM - 8:00 AM – Hobo Breakfast – Black Bear Diner, 6255 Commerce Blvd, Rohnert Park
8:30 AM - 12:00 PM – Registration Desk Open
8:30 AM - 12:00 PM – Company Store Open
9:00 AM - 3:00 PM – Contest Judging, Contest Room Open during Judging
9:00 AM - 4:00 PM – Clinics
9:00 AM - 5:00 PM – Non-Rail Room Open
9:00 AM - 5:00 PM – Non-Rail Activity: Shop Hop of local quilting stores
9:00 AM - 12:00 PM – Layout Tour - Kaiser
10:00 AM - 3:00 PM – NWP Restoration Yard Tour
12:00 PM - 4:00 PM – Layout Tour - NCHMRS
1:00 PM - 4:00 PM – Layout Tour - Hoard
1:00 PM - 4:00 PM – Layout Tour - Learn
1:00 PM - 4:00 PM – Layout Tour - Schoenstein
1:00 PM - 4:00 PM – Operating Session - Kaiser
3:00 PM - 5:30 PM – Pickup Contest Entries, AFTER judging is completed; also after Banquet
4:00 PM - 5:30 PM – Banquet Set-up
6:00 PM - 7:00 PM – Social Hour
7:00 PM - 9:00 PM – Banquet & Awards Presentation
9:00 PM - 10:30 PM – Pickup ALL Contest Entries by 10:30 PM

SUNDAY, APRIL 8
8:00 AM - 9:00 AM – PCR Breakfast
9:00 AM - 11:00 AM – PCR Membership Meeting
10:00 AM - 1:00 PM – Layout Tour - Barnes
10:00 AM - 2:00 PM – Operating Session - Providenza
11:00 AM - 3:00 PM – Layout Tour - Kaiser
1:00 PM - 4:00 PM – Layout Tour - Campagna
1:00 PM - 5:00 PM – Layout Tour - Alexander
1:00 PM - 5:00 PM – Layout Tour - Redwood Empire Live Steamers
1:00 PM - 8:00 PM – Layout Tour - Learn
1:00 PM - 4:00 PM – Layout Tour - Wells


CANCELLED

– Operating Session - Schmidt

Giuseppe Aymar, Convention Chairman
This page last updated: