Awards Banquet
Chair: Ron & Pam Kaiser

This page last updated: 15 February 2018
(Please disregard date at bottom of page.)
The Awards Banquet will be held Saturday night from 7:00 to 9:00 PM and is included with Full Fare, First Timer, Non-Rail and Youth registrations. There will be a Social Hour from 6:00 to 7:00 PM for everyone to renew old friendships and make new ones and followed by dinner, A Truly Sonoma County Buffet.
Banquet Keynote Speakers
Dr. Ty Smith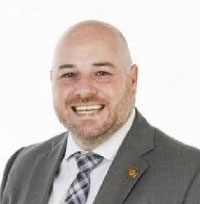 The Enduring Rails 2018 Convention Committee is very fortunate to have as our banquet's guest speaker, Dr. Ty Smith of the California State Railroad Museum (CSRM) in Sacramento. Ty is the new director of one of our state's most popular attractions. In case you haven't heard, the NMRA model train collection has been approved as a permanent display on the third floor of the museum. Additionally, the NMRA archives will also reside in Sacramento.
Of further interest are the two old Union Pacific buildings, just to the north of the museum. Currently being used as maintenance buildings for the museum's live train equipment, these structures will become a permanent part of the CSRM. Ultimately, the museum will have tours of these repair facilities. Dr. Smith will address these concepts with pictures and drawings and, of course, a few railroading anecdotes for our enjoyment.
Dr. Ty Smith has been the California State Railroad Museum Director since April 1, 2017, when he came to CSRM after five years at Hearst Castle as Interpreter III and Chief of Museum Interpretation. Before Hearst Castle, Dr. Smith served as an interpreter II/museum services manager at the California State Capitol Museum.
Charlie Getz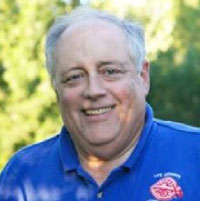 Charlie Getz, our NMRA president, and a PCR member will introduce Dr. Smith as our banquet guest speaker. He is the motivating force in bringing the NMRA models and archives to the CSRM. Charlie is serving the last couple of months as a very successful and influential NMRA president. This evening is a unique opportunity to hear how the NMRA and CSRM came together from two very entertaining speakers.
Charlie Getz served as Western Area Vice President on the Pacific Coast Region Board, as well as President, PCR Trustee, and At-Large North American Director. He chaired the Long Range Plan Committee and was the primary author of the new NMRA regulations. He has received numerous President's Awards and is an Honorary Life Member. Charlie currently serves as President of the NMRA.
---
Banquet Menu
"A Truly Sonoma County Buffet"
Starters
Baby greens and strawberries in balsamic vinaigrette
Grilled asparagus
Caprese salad
Entrees
Rosemary chicken
Sonoma County pulled lamb
Rockfish with mango salsa
Sides
Roasted baby carrots
Parsley new potatoes
Dessert
This page last updated: