Operating Sessions
Operating Sessions Coordinator
David Parks
All Registrants Welcome!
All Daylight Express 2017 convention registrants are eligible to participate in Prototype Operating Sessions. These sessions are offered with the intention that many who normally do not participate in these structured operating events will take advantage of this open enrollment. No previous operating session experience is necessary, just a desire to run a model railroad as if it were a real transportation system. This is not a special club or special interest group (SIG) event. It is open to all PCR convention attendees.
We have two layouts offering operating sessions during the convention. Advance reservations for operating session positions are recommended. Both layouts are HO scale. Descriptions of the layouts are below the reservation information.
Golden Empire Historical and Modeling Society (GEHAMS) – HO scale

Wednesday, April 19, 6:00 – 9:30 pm [29 slots]
Saturday, April 22, 1:00 – 4:30 pm. [29 slots]
Times include a briefing to discuss the forms and a quick tour of the layout, plus two to three hours of operation

Fall Creek Branch by Robert Pethoud – HO scale

Thursday, April 20, 9:00 am, 1:00 pm, 5:00 pm, 7:00 pm, and 8:00 pm [2 slots each time period]
Friday, April 21, 11:00 am & 4:30 pm [2 slots each time period]
NOTE: See the Daily Schedule for a full schedule of convention activities to see how the sessions would fit with your convention plans.
All operators must be registered for the convention to participate in the operating sessions. Please reply by e-mail if possible and indicate your 1st, 2nd and 3rd choices. Include any questions or special needs assistance.
Signing Up for Operating Sessions
Please send the following information to dx2017operations@pcrnmra.org:
Name
Cell Phone Number
Email address
Will you need transportation?
Are you willing to offer rides? How many additional persons can you accommodate?
Day and hour, as appropriate, that you would like to operate
Indicate first, second, and third choices
Requests for sessions will be considered in the order in which they are received, up to the cut-off date of April 16th. We will make every effort to fill your first choice on the day requested, but if that is not available, we will use the second or third choice. If none of these are available, an assignment will be made to an available layout, unless you notify us that you do not wish for us to do so. Requests after April 16th will be accepted up to the start of the convention, but assignments will be made to layouts that have available positions, if any are available.
To allow the maximum number of participants, the initial number of slots assigned to individuals may be limited, although additional session assignments are possible after the cut-off date, depending on the number of operators and layouts available.
Assignments will be emailed to operators prior to the convention. If operation slots are still available at the time of the convention, they will be filled from those interested that are attending the convention. A sign-up sheet will be available at the registration desk.
If you can no longer attend your assigned session, please notify us as soon as possible.
Back to Top of Page
---
Layout Descriptions
GEHAMS
The HO scale Golden Empire Historical and Modeling Society (GEHAMS) layout occupies a 37 X 110 foot room on the third floor of a commercial building in downtown Bakersfield. The layout has over 848 feet (14 scale miles) of mainline track that crosses mountains, valleys, river canyons, and hillsides between the large classification yards and engine facilities located at "Bakersfield" and "Mojave".
The scenery depicts the landscapes typical of Southern California with citrus orchards, oilfields, small towns and industrial facilities, such as petroleum refineries and loading racks, packing sheds, lumber yards, cattle pens, warehouses, and manufacturing businesses. There is a one-mile branch line that serves the rich agricultural town of Norman.
Operations are point-to-point over a single-track mainline that has 5 passing sidings and return loops that allow continuous running. The layout is designed to run along two-sided peninsulas so that the trains traverse separate scenes along the way. The railroad has 160 spotting points to serve 44 customers during operating sessions. There is a strong Santa Fe and Southern Pacific influence to the railroad property.
The layout has been under construction since 1997 and was expanded in 2010 to include a large 7-track passenger station with REA Express, US Postal Service and LCL freight station facilities. A passenger yard was also constructed to service trains between runs. In 2013, intermodal and automobile yards were added near "Bakersfield" to operate these high priority trains. Additional improvements and upgrades are ongoing. The layout uses a Digitrax radio command control system, supported by 4 NCE 10-amp boosters and home-built power supplies. There are many Loconet plugs located around the layout to allow both tethered and radio control of trains.
Almost all the positions are two-man crews. Operators may bring their own power, if they wish. We recommend two 4-axle units for all jobs, except the freight trains. We will have a club member available for helper service in case someone stalls on the hill. Operators are also asked to bring any simplex or duplex Digitrax throttles, as the club does not have enough to supply to everyone. The DCC system at the club is running on both systems now with no interference.
For more information, see the club's website at https://gehams.org/ or their Facebook page https://www.facebook.com/bakersfield.gehams/.
---
Layout Schematic Diagram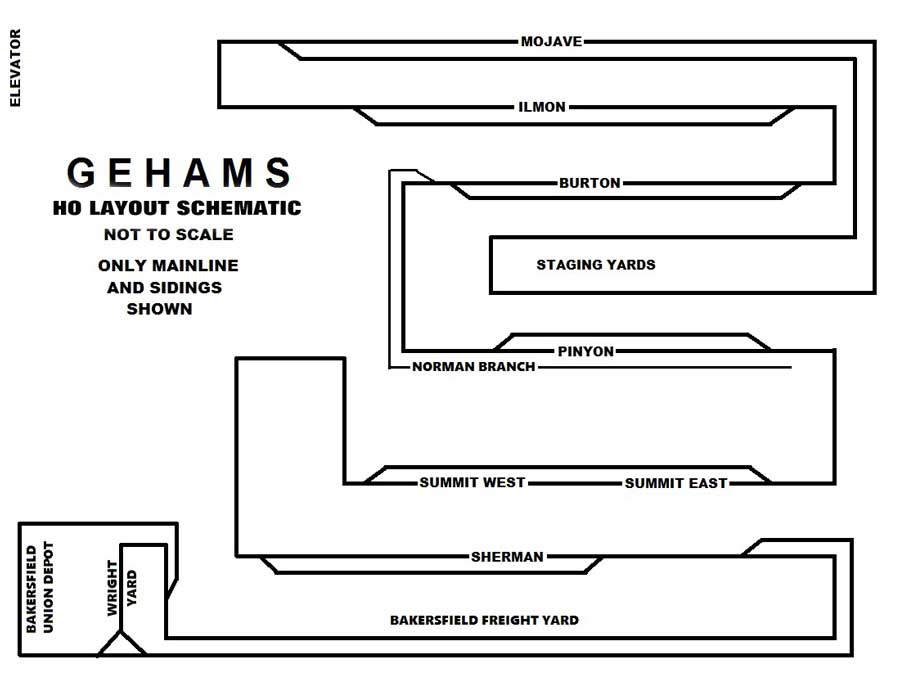 ---
Available Jobs
There are 29 positions for each operating session as described below: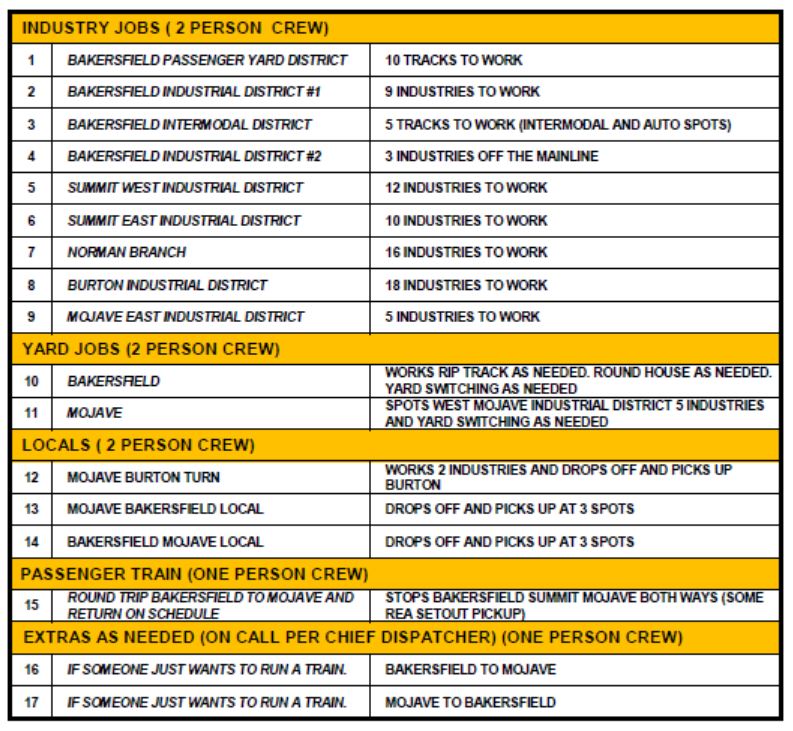 ---
Layout Photos
(Click photo for larger image)
| | | |
| --- | --- | --- |
| Hidden storage yard on GEHAMS HO layout | Grain operations is a big part of the GEHAMS HO layout | A Union Pacific stack train makes its way up the grade to Summit on the GEHAMS HO layout |
| AT&SF on bridge on GEHAMS HO layout | A Union Pacific stack train snakes its way up the "Spaghetti Bowl" grade on the GEHAMS HO layout | Cattle is one of the industries on the "Norman Branch" of the GEHAMS HO layout |
Back to Top of Page
---
Fall Creek Branch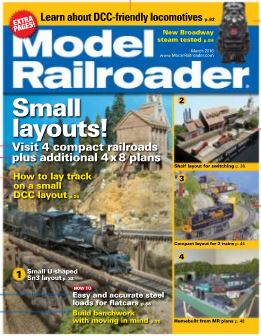 The Fall Creek Branch, built by Robert Pethoud of Fresno, was featured in the March 2016 Model Railroader magazine. The layout is three 15" x 48" modules, with only six turnouts. The fully-functioning model of an industrial yard at the end of a branch line becomes a way freight heaven. There is a facing point spur, a trailing point spur, a switchback, and a runaround.
Trains enter the layout, use switch lists to do multiple set outs and pick ups, put their caboose on the rear of the train and return. Sessions last 15 to 45 minutes, depending on the expertise of the operators and how diligently they work. The layout has full scenery, structures and details. NCE digital command control system.
---
Trackplan

---
Layout Photos
(Click photo for larger image)
| | | |
| --- | --- | --- |
| Approaching Town on Fall Creek Branch HO layout | Industrial Area on Fall Creek Branch HO layout | Fall Creek Co-op Area on Fall Creek Branch HO layout |
Back to Top of Page
---
David Parks
Operating Sessions Coordinator
This page last updated: