LCC: Layout Command Control
Learn All About LCC at Daylight Express 2017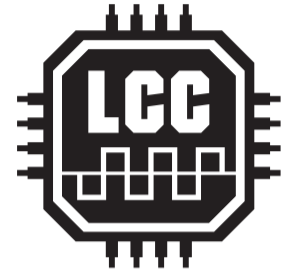 Layout Command Control (LCC) is one of the most exciting developments in electronic layout control of the past decade. LCC enables installation of smart devices on your layout that learn how to respond to events, such as block occupancy by changing signals or taking other actions. The Pacific Coast Region is pleased to announce that NMRA's LCC demonstration layout, built by RR-CirKits, Inc. will be on display and operating in Bakersfield at PCR's annual convention April 19-23, 2017.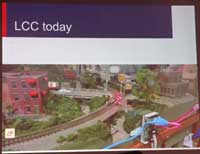 We're also delighted to announce that two of the world's experts on this technology, Balazs Racs of Switzerland and Stuart Baker of Wisconsin, will present three (3) clinics and discussions on LCC - first the basics, then intermediate topics, plus an OpenLCB Users Group Meeting. But wait, there's more - David Parks of California will discuss his experience building one of the country's largest LCC layout installations to date. And you can see and watch the demonstration layout built by RR-CirKits, Inc., a leading manufacturer of LCC products.
This is more LCC information, discussion and demonstration than an NMRA national convention might have! Join us for all this and more. Go to the Registration webpage to register today.
What is LCC?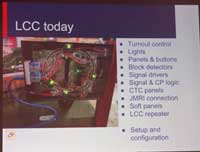 LCC is a system for controlling all the functions on your layout that don't have to do with how fast the locomotive is moving -- things like signals, turnout control, or layout lighting. LCC originated as the OpenLCB project, which was developed by volunteers around the world. The purpose of LCC standard is to take the load off the throttle network with respect to signaling, turnout routing, and other aspects of operations not related to control of locomotives.
When the DCC Protocols were designed in the early 1990s, no one foresaw applications like sound, multiple engine consists, stationary decoders controlling signals, signal systems and detection using the track or throttle buses. In large layouts, this has led to congestion on the network, delaying commands getting to their recipient. LCC solves these issues. And for smaller layouts, LCC offers a level of flexibility and functional sophistication that may not be available with conventional DCC components.
LCC Sessions at Daylight Express 2017
LCC: A Non-Technical Introduction and Overview
Balazs Racz & Stuart Baker
Wednesday
4:00 PM
Sierra Room
Layout Command Control (LCC) is an emerging NMRA standard for the control of model railroads. A non-technical explanation of what LCC is and what benefits it can bring to the hobby will be provided. Topics covered include:
Defining what LCC is (...and is not)
The benefits of LCC, also in comparison with other / proprietary systems
Basic concepts and capabilities of LCC
Overview of available and upcoming products
Summary of the current state of LCC as well as a vision for the future
---
LCC - Building Your Own Layout
Balazs Racz & Stuart Baker
Wednesday
8:30 PM
Sierra Room
This clinic shows the practical side of LCC, and familiarizes the audience with the products, wiring and tools needed to set up a layout. We do this in the most pragmatic manner possible: we will walk in through the door with a box of off-the-shelf components and wires, and walk out with a functional layout section. We'll set up basic layout control like throwing turnouts, fascia panels, and JMRI control, as well as more advanced features like blocks detection, railroad crossings and ABS signaling.
---
LCC - OpenLCB Users' Group Meeting
Balazs Racz & Stuart Baker
Friday
8:30 PM
Sierra Room
The OpenLCB group is a research and development organization of volunteers that develops communication standards and protocols for model railroad control. Once an OpenLCB standard has been developed and vetted through multiple prototype implementations, it becomes a candidate for adoption into the accepted NMRA LCC standards. The acceptance process includes a comment period that is open to the public.
The purpose of this meeting is to present to members of the public the work that is ongoing within the OpenLCB organization. One of OpenLCB's goals is to be thinking many years into the future in terms of model railroad control technology. During this meeting, the public has an opportunity to provide feedback as well as propose new ideas to be investigated. This meeting also provides an opportunity to meet some of the individuals behind OpenLCB and LCC, as well as a networking opportunity for those individuals who would like to become more involved as volunteers themselves. The discussion will be both technical and nontechnical.
This session is intended to be a discussion and audience participation is highly encouraged.
---
Exploring Layout Command Control (LCC)
David Parks
Saturday
2:30 PM
Nevada Room
David Parks is an experienced modeler who has installed one of America's largest and most complex LCC deployments in his extensive operations-oriented home layout. His clinic will describe how and what he learned about LCC in sourcing components, installing and programming them, including thoughts about the new NMRA standard and the future of LCC. Join this clinic for a thorough treatment of how LCC has been applied to a large home layout today.
---
Where can I learn more about LCC?
Extensive information about LCC is available on the Internet. A good starting place is the DCC Wiki page. Another high-level overview is in this NMRA document.
In-depth information is available at the OpenLCB website.
At the NMRA 2016 national convention, a detailed presentation was given and is available here. The same key speakers and developers who spoke there are attending PCR's Daylight Express 2017 convention—so bring your questions! View their video before attending the convention.
RR-CirKits, Inc. is a leading manufacturer of LCC products that you can buy now. The company built an LCC demo layout that will be on view and operating at PCR's 2017 convention. Two short demonstration videos are online here.
This page last updated: