Awards Banquet
Chair: Chris Palermo
The 2017 Awards Banquet will be held Saturday night from 7:00 to 9:00 PM and is included with Full Fare, First Timer, Non-Rail and Youth registrations. There will be a Social Hour from 6:00 to 7:00 PM for everyone to renew old friendships and make new ones.
Banquet Keynote Speaker
Michael Gross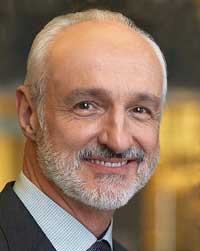 Mr. Gross is a model railroader, a railroad historian with a large collection of railroad antiques, and part owner of the 1:1 scale Santa Fe Southern Railway, a former branch line of the AT&SF which operates between Lamy and Santa Fe, New Mexico. He is spokesman for the "World's Greatest Hobby" campaign, Operation Livesaver, and the B&O Railroad Museum in Baltimore, Maryland. He is a member of the Santa Fe Railway Historical Society. In 2016, he narrated Kalmbach's DVD release "20th Century Limited" about the famed New York Central train which ended service some 50 years ago. He also appeared in the 2016 documentary "Model Citizens". The hobby is lucky to have someone from the entertainment industry so active in our organizations and programs.
Mr. Gross has been active in film and television since 1975. He starred as Steven Keaton in the TV situation comedy "Family Ties" for seven seasons, and played Burt Gummer in five motion pictures in the "Tremors" franchise. He has appeared in "Anger Management," "Suits," "How I Met Your Mother," "Law & Order," and many other productions.
Banquet Menu
This year's banquet menu is a buffet. Since the banquet is a buffet and not a plated meal, no advance meal selection is necessary.
No other information is available at this time, 4/17/2017 @ 5:53 pm.
Banquet Chair: Chris Palermo
This page last updated: